Sacred Land News
January 7, 2011
War Dance of the Winnemem Wintu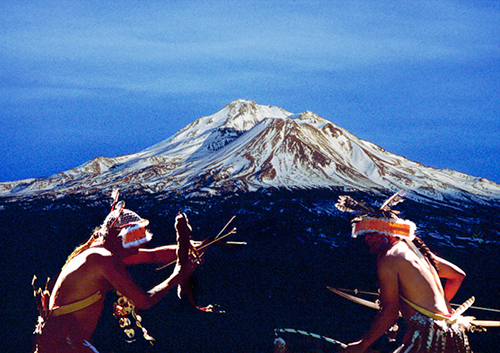 Hello, my name is Michael Preston, and I am a member of the Winnemem Wintu tribe and the newest member of the Sacred Land Film Project crew. I just wanted to share a little more about my tribe and do what I can to help tell our story.
Just a brief internal history: We were told by our former leader, Florence Jones, who led the tribe for 60-plus years, that it was time to tell the world about the state the Winnemem Wintu are in. As a result, Toby and the Sacred Land Film Project were allowed to film intricate parts of ceremonial life and feature us in the film In the Light of Reverence. At first this was met with much resistance by tribal members, but Florence was unfazed and the documentary went on.
Since that time, numerous short documentaries have come out telling a little more of the Winnemem story. Although many tribes still consider it taboo to film any part of ceremony, which is understandable, we have come to use a variety of documentation methods to help protect sacred sites, tell our story of injustice, preserve cultural knowledge and help attain federal recognition from the U.S. government, which does not consider us to be "real" Indians.
The story of the Winnemem Wintu is ever changing, but many of the things we find ourselves fighting for are the same battles my people have fought since first contact. We still do not have the basic rights afforded to Native Americans. We are unrecognized, with unratified treaties, and we are still fighting to protect our homeland and sacred sites and to continue our traditional way of life.
To help my people tell the world about what is happening in Winnemem Wintu lands, Rachel Gelfand and I embarked on a 28-minute radio piece that was aired on the National Radio Project's show "Making Contact" in 2009. We conducted interviews with tribal members, environmental-justice advocates and the Westlands Water District to help tell the Winnemem story about our current fight against the raising of Shasta Dam to save our lands from being flooded a second time. Thanks for your time and hope you enjoy the piece.