Sacred Land News
December 1, 2011
UNESCO Recognizes Indigenous Cultural Heritage in Colombia, Peru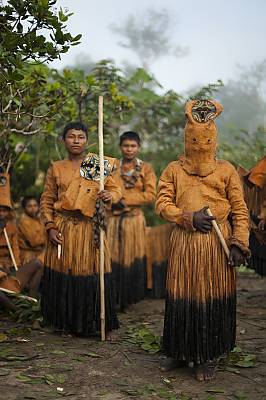 The annual Qoyllurit'i pilgrimage of Peru's Q'eros and other indigenous groups and the traditional knowledge of the jaguar shamans of Yuruparí in Colombia are among the cultural heritage "elements" added last week to U.N. Environmental, Scientific and Cultural Organization's intangible cultural heritage lists.
At its annual meeting, held Nov. 22-29 in Bali, the UNESCO Intergovernmental Committee for the Safeguarding of Intangible Heritage inscribed these and 17 other elements to its 2011 Representative List of the Intangible Cultural Heritage of Humanity.
According to UNESCO, the list, which the committee began compiling in 2008, was created "in order to ensure better visibility of the intangible cultural heritage and awareness of its significance, and to encourage dialogue which respects cultural diversity." An additional 11 elements were added to a second list, the List of Intangible Cultural Heritage in Urgent Need of Safeguarding.
In Peru, indigenous Andean communities including the Q'eros — who are the subject of a segment in Sacred Land Film Project's upcoming film series Standing on Sacred Ground — participate in an annual three-day festival and pilgrimage to the sanctuary of the Lord of Qoyllurit'i. Some 90,000 people from around Cusco journey to a high mountain site in the Sinakara Valley, a place of reverence that encompasses both pre-Hispanic spiritual practice and Catholic belief, yielding a unique and complex religious expression.
In Colombia, the traditional knowledge of the jaguar shamans of Yuruparí represents the cultural heritage of the many ethnic groups that live along the Pirá Paraná River in southeastern Colombia. The shamans use this sacred knowledge "to draw the community together, heal, prevent sickness and revitalize nature." According to the Gaia Foundation, whose partner Gaia Amazonas assisted in submitting the UNESCO application, the inclusion of the culture of the jaguar shamans "is probably the first example of an entire cultural complex, rather than an individual song, a ritual, or a tradition, being recognised."
UNESCO describes intangible cultural heritage as traditions and living expressions that are passed down through generations, evolving in response their environments and contributing to a sense of identity and continuity. Intangible cultural heritage represents a diverse wealth of knowledge that can be applied to food security, health, education, and sustainable use of natural resources, thus making it important to recognize and protect.
Click here to watch a Gaia Amazonas video about the jaguar shamans.
Leave a Reply