Sacred Land News
March 7, 2011
Tar Sands Catch-22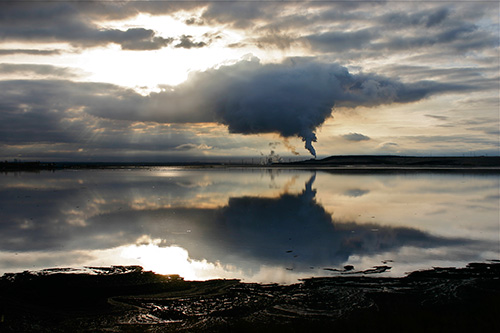 The latest issue of the Earth Island Journal features a must-read article on "ethical oil" that takes you to into the heart of the tar sands operations in Alberta, Canada.
Journal Editor Jason Mark aptly describes the Catch-22 that residents find themselves in: the booming industry provides employment in an area where jobs would normally be hard to come by, yet the very work local people do contributes to the erosion of their environment, their traditional cultures and their health. "According to a 2009 study by the Alberta Cancer Board, the cancer rate in Ft. Chipewyan [downriver of the industrial area] is 30 percent higher than normal," Mark writes.
Since more than half of the oil produced in the tar sands goes straight to the United States, Americans are complicit in the dilemmas facing residents there, and that brings up deep moral questions.
Mark asks whether or not American consumers (if they even know what is going on in Alberta) consider the tar sands operation a necessary evil, and should continue to accept the sacrifice of designated regions and peoples so that we, at a safe distance, can maintain our lifestyles. Alternatively, would not a more morally defensible course be to work together to find smart alternatives with less impact? We make these choices every day by our actions — or our inaction — every time we drive our cars.
This issue of Earth Island Journal also features a project update on some of the recent highlights from our production trips for the Sacred Land Film Project's upcoming film series, Losing Sacred Ground.
Leave a Reply