Sacred Land News
February 26, 2012
March 15 Sneak Preview — SOLD OUT!
All tickets are now SOLD OUT for our Thursday, March 15 preview of scenes from Standing on Sacred Ground. Thanks to all our supporters!

Reception starts at 6 PM, with special guests Caleen Sisk of the Winnemem Tribe in California, and Danil Mamyev, sacred site guardian from the Altai Republic in Russia. The screening begins at 7:30 PM. at the David Brower Center, 2150 Allston Way in Berkeley. Tickets for the fundraiser reception are $100 — and for the screening alone: $15.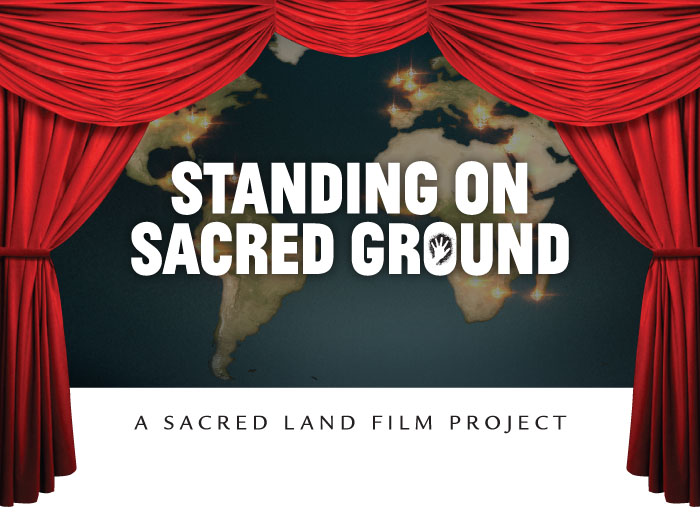 Thursday, March 15, 2012
Opening Reception & Silent Auction
6:00– 7:15 p.m.
Hazel Wolf Gallery
Film & Talk
7:30 p.m./ lobby doors open at 7:15 p.m.
Richard & Rhoda Goldman Theater
at the David Brower Center
2150 Allston Way (at Oxford)
Berkeley, California
Tickets for the reception and screening
are $100 each
Tickets for just the screening and talk
are $15 each
Join our MC for the evening, Ariel Luckey, and Sacred Land Film Project's founder and director Toby McLeod for a screening of four segments from SLFP's new documentary film series Standing on Sacred Ground.
In addition to clips, we'll hear presentations from two special guests who are featured in the film: Caleen Sisk, chief of the Winnemem Wintu Tribe of northern California; and Danil Mamyev, founder of Uch Enmek Nature Park in the Altai Republic of Russia. Caleen faces a determined U.S. government plan to raise the height of Shasta Dam, which would flood Winnemem sacred sites, and Danil is opposing a Gazprom plan to build a natural gas pipeline through the sacred Ukok Plateau.
Prior to the screening,  SLFP will host a special reception. Guests will have the opportunity to meet Caleen and Danil and sample a special appetizer buffet prepared by Back to Earth catering. Sourced from local, sustainably produced and organic ingredients, the buffet will feature dishes from the regions some of the communities profiled in Standing on Sacred Ground, including Hawai'i, Altai Republic and Peru.
The reception will also feature a silent auction to benefit production of the film, where guests will have the opportunity to bid on one-of-a-kind items donated by friends of SLFP.
For more information call 510-859-9100.
Media inquiries: Kevin Connelly at kevin@earthisland.org 510-859-9155.
Leave a Reply