Sacred Land News
February 27, 2012
Tribe & Sacred Mountain in India Face Renewed Mining Threats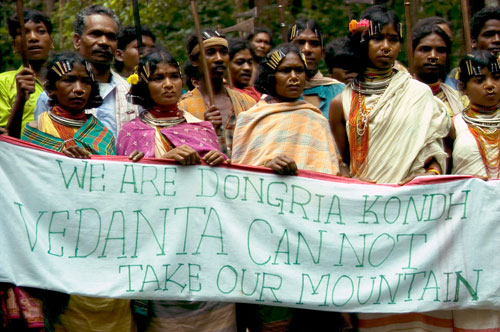 Nearly two years after the Dongria Kondh tribe in the Indian state of Orissa won a historic victory to halt an open-pit bauxite mining project on its sacred lands, both tribe and land are facing renewed threats.
In the lead-up to an important annual festival held atop their holy Niyamgiri Hills this past weekend, the 8,000-member tribe experienced a crack-down by state security forces. The NGO Survival International said it received reports of arrests and beatings, and that  in the past week alone, police had shut down six meetings where food supplies were being organized for the festival.
Giridhari Patra from the Niyamgiri Protection Committee said, "Intimidating and threatening the Dongria before one of their most important festivals is unforgivable. The mountain is the seat of their god and the basis of their identity. We will never give it up to [the mining company]."
In August 2010, India's environment minister, citing violations of environmental and human rights laws, denied permission for state-owned Orissa Mining Corporation and a subsidiary of UK-based Vedanta Resources to build a bauxite mine in the Niyamgiri Hill range. The company had set up an alumina refinery in Orissa in 2008 with the expectation that it would be allowed to annually extract three million metric tons of bauxite, the raw material for aluminum.
The Dongria Kondh consider the remote hills — home to their god, Niyam Raja — sacred, and they also depend on the hills for their water, food and livelihood. For the past 10 years they have been fighting to protect their land and way of life.
Now, their way of life is once again in danger. Orissa Mining filed a petition last year challenging the environment minister's decision, and Survival International says the case is expected to go before the  Indian Supreme Court on April 9.
Visit the Survival International website to learn more about the Dongria Kondh and what you can do to help.
Leave a Reply