Standing on Sacred Ground
A Four Film Series —

Ancient wisdom and modern courage: around the world, eight threatened cultures protect their sacred lands for future generations.
Indigenous communities around the world and in the US resist threats to their sacred places, the original protected lands, in a growing movement to defend human rights and restore the environment. In this four-part documentary series, native people share ecological wisdom and spiritual reverence while battling a utilitarian view of land––and government megaprojects, consumer culture, competing religions, resource extraction, and climate change. Narrated by Graham Greene (Oneida), with the voices of Tantoo Cardinal (Metis), Winona LaDuke (Anishinaabe), Q'orianka Kilcher (Quechua), Rhoda Roberts (Bundjalung) and Luana Busby-Neff (Hawai'i), exposes threats to native peoples' health, livelihood and cultural survival.
Episode 1: Pilgrims and Tourists
Russian shamans and a northern California tribe both confront massive government projects—and find common ground.
Around the world, indigenous communities stand in the way of government megaprojects. In the Russian Republic of Altai, a pristine mountain region in southern Siberia, traditional native people create their own mountain parks to rein in tourism, and resist state-run energy giant Gazprom's plans to run a pipeline to China through a UNESCO World Heritage Site. In California, Winnemem Wintu girls grind herbs on a medicine rock as elders protest U.S. government plans to enlarge Shasta Dam, which would forever submerge this touchstone of the tribe. Winona LaDuke (Anishinaabe), Oren Lyons (Onondaga), Satish Kumar and Barry Lopez provide insights on a growing global indigenous movement for human rights and environmental protection. Narrated by Graham Greene (Oneida), with storyteller Tantoo Cardinal (Métis).
Episode 2: Profit and Loss
From Papua New Guinea to the tar sands of Alberta, Canada, native people fight the loss of land, water and health to mining and oil industries.
From New Guinean rainforests to Canada's tar sands, Profit and Loss exposes industrial threats to native peoples' health, livelihood and cultural survival. In Papua New Guinea, a nickel mine that violently relocated villagers to taboo land is building a new pipeline and refinery, and dumping mining waste into the sea. In Alberta, First Nations people suffer from rare cancers as their traditional hunting grounds are stripmined to unearth the world's third-largest oil reserve. Rare verité scenes of tribal life and intimate interviews allow indigenous people to tell their own stories—and confront us with the ethical consequences of our culture of consumption. Narrated by Graham Greene (Oneida).
Episode 3: Fire and Ice
From the Gamo Highlands of Ethiopia to the Andes of Peru, indigenous communities protect their sacred lands from development, competing religions and climate change.
Fire and Ice explores two mountain cultures fighting to protect their cultural and ecological heritage with the help of modern science. In the Gamo Highlands of Ethiopia, spiritual traditions that long protected trees, meadows and mountains are under attack by evangelical Christians. During a New Years bridal ceremony, tensions erupt into a riot. In the Peruvian Andes, Q'eros potato farmers face an invisible foe: global warming that is melting the glaciers, their only water source. They still make their annual pilgrimage to pray for abundance, and they are also building the Parque de la Papa (Potato Park), a community research farm to adapt indigenous agriculture to the changing climate. Stunning landscapes and vivid ritual scenes offer rare insight into little-seen, oft-misunderstood cultures. Narrated by Graham Greene (Oneida), with storytelling by Q'orianka Kilcher.
Episode 4: Islands of Sanctuary
Aboriginal Australians and Native Hawaiians reclaim land and resist the erosion of culture and the environment.
Native Hawaiians and Aboriginal Australians resist threats to their sacred lands in a growing international movement to defend human rights and protect the environment. In Australia's Northern Territory, Aboriginal clans maintain Indigenous Protected Areas and resist the destructive effects of a mining boom. In Hawai'i, indigenous ecological and spiritual practices are used to restore the island of Kaho'olawe after 50 years of military use as a weapons testing range. Featuring Patrick Dobson (Yawuru), Davianna McGregor (Hawaiian), Winona LaDuke (Anishinaabe), Oren Lyons (Onondaga), philosopher Satish Kumar and author Barry Lopez. Narrated by Graham Greene (Oneida), with storytelling by Rhoda Roberts (Bundjalung) and Luana Busby-Neff (Hawaiian).
A 2005 report by the World Wide Fund for Nature and the Alliance of Religions and Conservation, titled "Beyond Belief," concluded: "Sacred sites are the oldest method of habitat protection on the planet." Yet these biological and cultural treasures are under assault — as are the people who have been safeguarding them for millennia. Building on the success of our award-winning PBS documentary In the Light of Reverence, the Sacred Land Film Project (SLFP) is producing a four-part film series for public television titled Standing on Sacred Ground. The series will expose corporate and environmental assaults on indigenous peoples' sacred landscapes and promote strategies to protect the ecological integrity of these endangered places.
The film series tells eight distinct stories from the viewpoints of diverse indigenous communities — stories that evoke ancient and contemporary spiritual connections to earth, while exploring how the health of our global environment can be sustained through respectful understanding of the sacred lands and traditions of these native peoples.
In making Standing on Sacred Ground, SLFP has filmed cultural landscapes on five continents: the Altai Republic of Russia, Aboriginal Australia, the Andes of Peru, the Rift Valley in Ethiopia, Papua New Guinea, native lands in northern California, the sacred Hawaiian island of Kahoʻolawe, and the oil sand rich boreal forest of Canada.
Now in its seventh year of production, editing is fully underway and the series will be completed in 2013. These documentaries would not be possible without the unique relationships and trust built over decades by the Sacred Land Film Project with native people around the world.
Check out our blog to see photos and behind-the-scenes videos from our shoots and to read field reports from Producer/Director Christopher (Toby) McLeod. Learn about the peoples of these remarkable places and the battles they are fighting to preserve their lands, waters and ancient ways of life.
Director's Statement
by Christopher McLeod
Thirty-five years ago, listening to Hopi elders, I first understood the message of a chorus of indigenous voices around the world: that the environmental crisis is a spiritual crisis — the absence of a conscious connection to land and water inevitably leads to violence and threatens all life. Each film I have produced explores this environmental-spiritual crisis, and reveals the clash between proponents of a utilitarian view of private property and communities that bear responsibility for sacred land. The films spark dialogue about western culture's relationship to nature and the growing global yearning to reconcile with native people and the earth.
In the spring of 2005, I was invited to screen In the Light of Reverence at a UNESCO conference in Tokyo on sacred sites, biodiversity and cultural landscapes. Hundreds of people attended and I was amazed at the rapidly growing international interest in this issue, and the sense of urgency about threats to sacred places around the world. Indigenous people are asserting their land rights on every continent and it became clear to me that these stories need to be documented on film — now.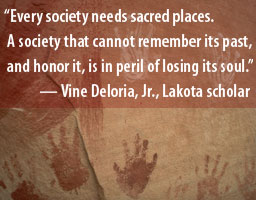 The Standing on Sacred Ground film series is simultaneously an amazing opportunity and a heart-breaking challenge. It is the culmination of years of preparation, and is only possible because of the good will and trust generated by past works and long-standing relationships. My goal is to artfully and accurately tell stories of indigenous peoples' resistance to the destruction of sacred places, and to use this to inform, inspire, and give strength and hope to others. These stories of conflict and triumph are doorways that transform our perception. It is a privilege to be granted access to these communities and their spiritual practices, and we are aware of the great responsibility we have, to both our subjects and our audience, to produce a meaningful film that aids traditional cultures in their struggles.
Support for indigenous worldviews and values — and protection of sacred places — strengthens the earth's biological and cultural diversity. This makes the world a more healthy and vibrant place. A sustained international effort is already transforming public awareness of issues surrounding sacred natural sites. Cultures are banding together to defend against attacks on their resources and their past — and our common future. The time for this transformative film series has arrived.
After I returned home from my visit to Japan, a Hopi friend, Leonard Selestewa, and his wife and daughter visited my family in the Santa Cruz Mountains of California. We took them to see the towering redwoods near our home. Standing by a clear stream in the green forest, the desert-dwelling corn farmers experienced the tall trees' magic. The place brought back a memory for Leonard: "My grandfather told me: 'To be Hopi, your prayers have to encompass the entire world.'"
Preserving what we love at home and beyond has never been a greater challenge. Listening to native people and learning from them has never been more crucial. They have preserved the ancient wisdom that we are part of nature, not separate, and that what happens to nature happens to us. Indigenous communities nurture the values that can sustain us in the future and help keep the earth alive.
The sacred natural sites that grace every continent are culturally and biologically important in and of themselves. But let us also appreciate them as doorways opening to a priceless opportunity — the paradigm shift that just might save our teetering society.
Let's walk through the door together.
Project Goals
Places of spiritual significance to indigenous people are the meeting ground of cultural and biological diversity. When a sacred grove is cut, or water from a sacred spring privatized, or a sacred mountain stripmined, both cultural and environmental impacts are extreme. The adversary may be hostile, indifferent or well-meaning: mineral extraction, development schemes, eco-tourism, and even creation of nature parks by conservation groups can hasten the extinction of species and cultures. A common problem is lack of understanding or respect for spiritual connection to land. The Sacred Land Film Project excels at increasing understanding and respect through powerful documentary films.
These stories of indigenous people defending their sacred sites will make a difference locally, on the ground, and also globally, in the hearts and minds of decision-makers, urban dwellers and students of all ages. Two main goals of this seven-year project are:
To provide an enduring historic record of indigenous communities' sacred land struggles as an educational tool that will be useful for the continuation of traditional knowledge and the preservation of cultural landscapes.
To protect sacred places and indigenous cultures at the regional, national and international levels by raising awareness, clarifying conflicts and common lessons learned from history, and inspiring audiences to action through broadcast and educational distribution.
The films will prove — in part by showing scientists discovering and affirming — that cultural diversity and biological diversity are symbiotic. Like viewing images of the Earth from space for the first time, or seeing Joseph Campbell's universal symbols that arose independently in cultures isolated from one another, viewers of the film series will experience the understanding that virtually every culture in the world has sacred sites, and these places of power are inextricably linked to the vibrant, diverse life of the land. As a new World Wildlife Fund report, Beyond Belief, concludes: "Sacred sites are probably the oldest method of habitat protection on the planet."

The Challenge: Funding
For ten years we swam against the current and successfully produced the award-winning film on Native American sacred places, In the Light of Reverence. That project convinced many skeptics, from funders and federal land managers to legislators and newspaper editors, that sacred land protection is a real and critically important issue.
We know well the many battles being fought in the United States. We are now examining and revealing the effect of American power, Western values and the global economy on indigenous cultures and sacred lands around the world. To tell this global story we need a broad network of allies and partners to help us find stories and secure all of the funding to sustain an ambitious project over seven years — from 2007 through 2013.
Our previous film production timelines have been determined by:
The difficulty in gaining access and trust from native communities,
High standards for production values, and
The necessity to repeatedly pause production in order to fund raise piecemeal.
The positive reception of In the Light of Reverence among indigenous communities has opened up a tremendous number of previously inaccessible stories. Native communities now invite us to film because our process honors consultation and collaboration. Our productions are acclaimed for the beauty of images and words, the uncommon quality of interviews with people of diverse perspectives, and fair and balanced editing.
The obstacle that remains is fundraising for the issue. Film is an expensive and risky creative venture. Many funders prefer to give directly to social programs in native communities. Funders who understand the importance of protecting cultural, environmental and spiritual sites are rare. Funders who appreciate the necessity for a thoughtful and artful film to enlighten a mass audience about a little-understood issue are rarer still.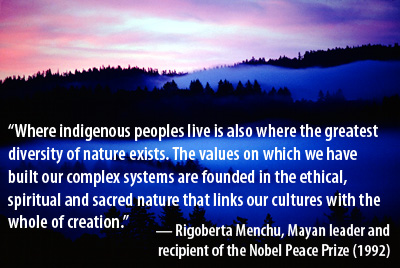 The crucial communication of indigenous people's stories depends on independent filmmakers like us – and we depend on the support of individuals like you. Your tax-deductible donation will help launch a groundbreaking documentary film series that will truly make a difference. Please consider making a donation to the Sacred Land Film Project.
If you are a trustee or staff member of a foundation, and have read this far, we would be happy to submit a detailed funding proposal and invite your collaboration on this critical issue of preserving traditional knowledge, indigenous cultures, biodiversity and sacred sites. Please send an inquiry to slfp@sacredland.org.
Thank you very much for your interest and support.
Film Synopsis: Sample Scenes

A shaman from the mountainous Altai Republic of Russia cautiously allows a scientist to map her sacred sites in the hope that it will protect them from a planned pipeline construction. An Aboriginal elder can no longer fish his sacred winding river, now polluted with mining waste. An Ethiopian farmer stands up to fundamentalist missionaries to guard the sacred grove of his ancestors from clear-cutting and church construction.

These three indigenous people face common threats to traditional spiritual practices –– on lands that safeguard and reveal the essential human connection to nature and to home.
Despite the good efforts of millions to minimize human impacts to the environment, the people of every continent are now facing staggering biological and cultural losses. In sharp contrast to the dominant Western worldview, indigenous people have maintained traditional connections to sacred lands and lead the way toward global understanding of human connections to land and water — connections critical to our survival. Standing on Sacred Ground gives native voices a world audience, and tells stories of the great environmental and cultural challenges of our time.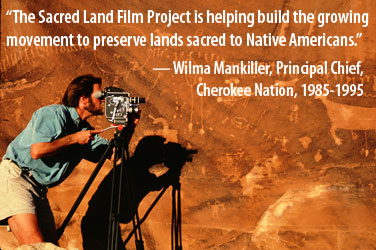 Each segment combines local interviews with expert observation, stunning visuals, and the journalistic integrity for which the Sacred Land Film Project is known. We focus not only on causes of conflict, but also on creative new solutions that preserve human rights, land rights and the rights of nature. Threats to these sites include mining and industry, new dams and roads, water extraction, global warming, government repression of spiritual practice, competing religions and fundamentalist missionaries, toxic cleanup from bomb testing, ecotourism —  even the creation of protected areas preventing indigenous access and centuries-old tribal practices. The inspiring political and spiritual responses of native communities in the face of these threats, and the growing international network of indigenous sacred land guardians and activists are the heart of our film series.
Standing on Sacred Ground interweaves stories and conflicts from sacred natural sites around the world with thoughtful reflections on the power of humans to transform land — and the power of land to transform humans. In scenes that balance conflicting worldviews, we see an expanding movement of indigenous people standing their ground in places that have so far escaped urban or industrial development, government takeover and tourist discovery, though many face ever-encroaching threats. Innovative collaborations between scientists and elders reveal the importance of protecting sacred natural sites in order to preserve biodiversity. We see traditional people who have not given up their historical connection to their land, and modern people who seek to break through the indifference of their dominant society and establish connection and meaning.
After a half-century of exile in white towns and missions, the Yolngu people of the Northern Territory of Australia have come back to the Arnhem Land Plateau, led by honored artist Bardayal Nadjamerrek. With them, traditional land management and controlled burning have returned. The Yolngu's success in reducing catastrophic fires in Australia was noticed by a major energy corporation. In a carbon trade that has made history, Conoco Phillips is paying a million dollars a year for indigenous fire management for the next 15 years.

"You've got very poor people looking after immense areas of biodiversity, doing it very cheaply," says Joe Morrison, director of the North Australian Indigenous Land and Sea Management Alliance. "They're not doing it just so they can make a buck. They're doing it because they've got cultural obligations to do so."
The film series is organized geographically. Each story needs 20 to 25 minutes to unfold as we explore the history, rituals, art and ecology of the place. In each segment, Graham Greene narrates facts and history and Tantoo Cardinal tells a local cultural story. The extraordinary beauty and unique quality of each cultural landscape is illuminated. Those interviewed speak of their particular place and the threat confronting it, and a few offer global insight to other struggles as well. In weaving the stories together, interactions are shown between guardians of sites on different continents meeting one another and reaching out at international conferences and through activist alliances. A sampling of the stories in the series:
Gamo Highlands, Ethiopia — In the Rift Valley, the birthplace of humanity, Makko Wareo, "the father of Milo Mountain," walks through sacred groves with Ecology Professor Zerihun Woldu. They have collaborated on a two-year study that shows traditional management practices and spiritual values have an important ecological role in protecting species diversity. We travel on a bus with Makko Wareo as he goes to the city to bless a cultural festival but is rebuffed by a Christian audience. Fundamentalist missionaries are hard at work in Ethiopia. We witness a traditional pilgrimage interrupted by Christians who start building a church in a sacred meadow at the climax of a four-day ceremony. A riot ensues with police firing their guns in the air to disperse an angry crowd.
The Andes, Peru — The Q'eros live on the eastern slope of the Andes, as far from Catholic influence as they can get. In a mystical valley full of clouds they herd alpaca and farm a hundred varieties of potato beneath mountain deities they call Apus. Their worried faces turn toward shrinking glaciers and potato fields suddenly stricken by blight, as their climate warms and water supplies dwindle. We join the Q'eros on a pilgrimage to the Q'oyllur Riti ceremony beneath sacred Mt. Ausangate, climbing up to a glacier at dawn to conduct a fire ceremony and give thanks to the source of their water. For the first time, the pilgrims abandon a centuries-old tradition of taking a block of healing glacial ice back down to their community, so concerned are they about the death of the glaciers. We also journey with Q'eros allies to the Congress in Lima where they lobby for creation of Vilcanota Spiritual Park around their homeland, in an attempt to stop mining operations and construction of a Trans-Oceanic Highway across the Andes.
Altai Republic, Russia — Soaring mountains and a throat-singing shaman introduce us to the magical home of snow leopards in the heart of Siberia. The Altaians are confronting a tourism boom and a proposal by natural gas giant Gazprom to build a pipeline across Altai to China. Of equal concern is the removal by archaeologists of ancestral remains, including the revered Ukok Princess, who has become a symbol of modern Altai as she inspires her descendents to seek her return and rebalance nature and culture.
We follow Danil Mamyev, founder of Uch Enmek Nature Park, as he works to prevent the Russian government from selling off the park to private investors, makes a pilgrimage to a sacred mountain, and trains rangers from all over Asia in local management of culturally significant sites.
As we travel with a group of spiritual tourists who have come from Europe to commune with an Altaian shaman, viewers feel their deep yearning, yet see irony too: their act of pilgrimage could damage the unsullied nature they so ardently seek. On the other side of the mountain, another shaman, Maria Amanchina, works with a scientist mapping sacred sites — the first step to ensure a protected future.
Northern Territory, Australia — We visit (the late) Bardayal Nadjamerrek, a famous artist known to all Australia as "Lofty," who after decades of exile brought his people back to the Arnhem Land Plateau where he was born. Lofty was a crusty and charismatic elder, awarded the Order of Australia for his artistic prominence. We see him directing a controlled burn, harvesting honey and teaching children about their heritage depicted in ancient rock paintings. The story of the return to traditional land management after a century of conquest mentality is an inspiration to Aboriginal people and prominent scientists.
Lofty's success is contrasted with the disastrous effects on land and culture of the McArthur River Mine. According to the Aboriginal people of Australia's Northern Territory, in the mystical creation period known as the Dreamtime, the Rainbow Serpent sent cyclones and floods across a vast plain on Australia's northern coast. These storms created the broad and winding McArthur River, which remains a sacred part of the "dreaming" and song cycles of the people. Today the massive mine, and plans for its expansion, threatens to destroy the river where the spirit of the Rainbow Serpent resides, as the McArthur River is being rerouted in order to extract zinc from beneath the riverbed. Several court decisions ruling in favor of Aboriginal rights have been overturned by legislative actions to continue the mining operation. We follow a community of Gudanji and Yanyuwa elders and youth who protest at the regional capital. We hear the thoughtful outrage of Barbara McCarthy, an Aboriginal member of Parliament, and the spirited defense of the mine by an Aboriginal representative on the company payroll.
Hawaiʻi — First came the American missionaries, then the U.S. Navy. After centuries of losses to American landowners, Native Hawaiians were banned altogether from their sacred island Kahoʻolawe, the physical incarnation of the sea god Kanaloa. The day after Japan's 1941 attack on Pearl Harbor, the military declared martial law on the small island. It was used as a bombing range during the war and for 45 years afterward.
Over images of the 1976 occupation of Kahoʻolawe by Native Hawaiian activists, plays the music of George Helm, the native activist who died trying to stop the bombing. The Hawaiians finally triumphed when the United States returned the island to the state of Hawaiʻi in 1994. Yet Kahoʻolawe remains riddled with unexploded ordnance. Now it's up to the Hawaiians to revegetate the island, heal the poisoned soil and repair the bomb-blasted aquifers.
A boat of Hawaiians returns to restore the island spiritually and ecologically. On a rock platform by the beach, with Maui's Haleakala volcano on the horizon, Luana Busby-Neff teaches young women hula as gestures of aloha aina — love for the land. "We must protect what has come before. We are accountable to the ancestors," Luana says. "English words really don't express the depth of our human relationship to nature. In the Native Hawaiian language, wahi pana means 'a source that sustains us,' and it's not that mountain up there, it's here, home, community, family, in your heart, reverence for daily life and community."
Twenty percent of the Hawaiian land base is occupied by the military, which continues to seek new areas for bombing. Dozens of sacred places are at risk — victims of a mechanical worldview that does not distinguish between a bombing range and paradise. The history of Kahoʻolawe and its cultural and ecological restoration promises to be the most hopeful story in our series.
Northern California — The Winnemem Wintu of northern California are river people, salmon people. We featured their successful fight to stop a ski resort on Mount Shasta in our PBS film In the Light of Reverence. We have continued documenting their latest struggles over a U.S. government proposal to heighten Shasta Dam and flood even more of the McCloud River valley, drowning more sacred sites, ancestral villages and burials central to ongoing Winnemem cultural practice. Scenes include a Winnemem war dance at the dam, a puberty ceremony at a usually flooded sacred site briefly exposed by drought, and journeys by leader Caleen Sisk-Franco to Sacramento and Washington, D.C., to make their case in defense of the Winnemem homeland, religion and culture.
Further up the river, the Winnemem are fighting water-bottling companies over the drying up of their sacred spring, and other springs that serve local communities. The irony of health-conscious consumers paying for bottles of water that are draining Mount Shasta's artesian springs is not lost on the Winnemem or other locals who have organized to fight.
In order to interweave these distinct stories, we have interviewed Satish Kumar, Indian author and philosopher; Oren Lyons, Onondaga Chief; Winona LaDuke, Anishnaabe activist; Barry Lopez, author; Brendan Mackey, Australian scientist; Ben Orlove, anthropologist and glaciologist; Caleen Sisk, Winnemem leader; and Mohamed Ge'as, Ethiopia's Minister of Culture and Tourism.
With generous funding from The Christensen Fund, Sundance Documentary Fund, Pacific Islanders in Communications, Vision Maker Media, Grousbeck Family Fund, Annenberg Foundation, Kalliopeia Foundation, Newman's Own Foundation, Compton Foundation, Wallace Alexander Gerbode Foundation, Tides Foundation, Weeden Foundation, Berkeley FILM Foundation and numerous individuals, we have been able to select the most urgent and compelling stories that illustrate these themes, and we began capturing them on film in 2007. We currently have completed production on all eight stories, have fine cut all four segments, and are in the final stages of sound mix and color correction. We anticipate that the four-part series will be broadcast in 2014.

Target Audience
For those concerned with protecting sacred lands, inspiration comes from stories of places managed by indigenous communities, and of successful collaborations with scientists, educators, activists and artists to preserve bio-cultural diversity.
Our target audience includes the widest possible broadcast audience, with a focus on decision-makers – local and national legislators, government officials, scholars, scientists, researchers, conservation professionals, journalists, religious communities, property owners, investors and funders. Additional screenings will extend our outreach to native communities, protected area managers, corporate executives and students. Both broadcast and community screenings followed by panel discussions and dialogue will be designed to inspire citizen activism, so that viewing is not a passive experience, but one that moves people to take action.
Our goal is to reach people whose lives have been touched by encounters with spirituality and the natural world, or who are concerned with environmental and cultural preservation, social justice and enjoyment of protected areas. This includes tourists and travelers, indigenous people working to protect sacred sites, members of mainstream faiths seeking to restore connections to the traditional sacred places of their religion, public land managers, environmentalists, musicians, poets, outdoor enthusiasts, and students of indigenous issues, land use conflicts and world history.
Viewers of Standing on Sacred Ground will see things they have never witnessed and emerge discussing ancient concepts in a new way. These important stories will stimulate public dialogue about the relationship of land and culture, spirit and place, and indigenous and non-indigenous.
The urgent need for a paradigm shift in our culture is painfully obvious. Fast-paced consumerism, ongoing denial of the history of land theft, and the violent exploitation of nature all need to be exposed as a dead end. But before we can choose a different path, we must first envision a new way. We believe that artfully told stories of sacred land struggles will lead our audience to a doorway that opens to this new paradigm. If you are fighting to protect a sacred place or know of a great story, please send us details.

The work of the Sacred Land Film Project is distinguished by flexible content, adaptable to any educational or professional setting, and by extensive distribution activities and supplemental materials, which allow us to continually update our audience about new issues. The Standing on Sacred Ground film series will be supported by comprehensive educational tools (developed during our 15 years of work on In the Light of Reverence), including: a DVD, a website with detailed profiles of sacred places around the world, a Sacred Land Reader and Teachers' Guide (both downloadable for free), discussion guides to stimulate dialogue aimed at conflict transformation, and research reports like our recent publication Corporate Responsibility for the Protection of Native American Sacred Sites. During production of Standing on Sacred Ground, the project director has been posting regular blogs as "Reports from the Field," with accompanying video clips – so that the footage we shoot is put right to use. During distribution, we will organize screenings, symposia and conferences to carry the issues raised in the film series into the realm of public discourse and international social policy debate.
A film has tremendous power to affect change and redefine issues of corporate responsibility, environmental justice, cross-cultural collaboration and spiritual relationship with nature. Over 25 years, we have developed an educational project with a track record that positions us to accomplish this critically important multimedia project in a timely manner, disseminating valuable information and compelling stories at every step of the process.
Please make a donation and support the production of Standing on Sacred Ground.
Thank you very much.
Support Our Goals
To clarify the unique qualities of land-based religions and establish sacred land protection as an issue of religious freedom and environmental justice.
To show how sacred sites and associated ceremonies preserve larger ecosystems, protecting both cultural and biological diversity.
To encourage activism in support of indigenous cultures and sacred places, and dialogue to help heal centuries-old divisions.
To promote dialogue among public land managers, outdoor recreationists, environmentalists, eco-tourists, New Age practitioners, academics and native activists.
To educate the public on the responsibility of corporations in the destruction of sacred lands, and demand corporate accountability.
To enact legislation that guarantees religious freedom and the protection of sacred places on public land, and to facilitate access to and protection of sites on private land, in nations around the world.