Sacred Land News
March 17, 2010
Fight to Save Brazil's Xingu River Builds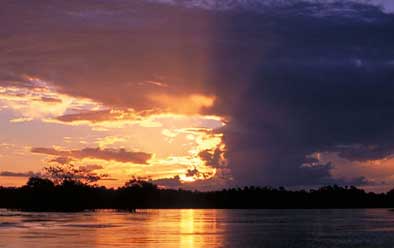 International outcry is mounting against the Brazilian government's plan to move forward on the massive Belo Monte dam on the Amazon's Xingu River.
On March 11, a coalition of 140 international organizations sent a letter to Brazilian President Luis Inácio Lula da Silva demanding an immediate halt to the plans and urging a consideration of alternatives to the mega-dam. The dam project would destroy a vast area of the Amazon rain forest, displacing tens of thousands of people, including tribal people whose livelihoods depend on the river and forest.
Lend your support by sending a message to the Brazilian government.
If you're in the Bay Area, you can learn more about the struggle to save the Xingu and protect indigenous rights at an event this Friday, hosted by our friends at International Rivers, featuring two films, a panel discussion and live Brazilian drumming:
When: Doors open at 6:30 p.m., Friday, March 19; film starts at 7 p.m..
Where: The David Brower Center, 2150 Allston Way, Berkeley (map)
What: Film screening of Amazonia: Voices from the Rainforest by Glenn Switkes and Monti Aguirre and the award-winning short Battle for the Xingu, directed by Iara Lee, followed by a panel discussion on efforts to protect the Amazon river and the forest it sustains.
Panelists include:
Aviva Imhof, Campaigns Director, International Rivers
Leila Salazar-Lopez, Campaign Director, Rainforest Action Network and Board Member, Amazon Watch
Monti Aguirre, Latin America Campaigner, International Rivers
Afterward, stick around for some refreshments, music by Samba Jam, and great conversation!

Cost: $15 at the door. SAVE $2 IF YOU PURCHASE ONLINE. Purchase tickets here.
For more information, e-mail Karolo Aparicio at karolo@internationalrivers.org, or call 510.848.1155.
Leave a Reply