Sacred Land News
February 9, 2012
Fed Study Supports Raising Shasta Dam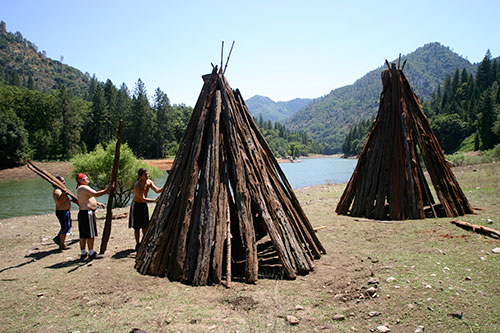 In a report released this week exploring the feasibility of various options to expand Northern California's Shasta Dam and Reservoir, the U.S. Bureau of Reclamation identified raising the dam 18.5 feet — the highest possible option — as its "preliminary proposed plan."
Raising the dam would deal a critical blow to the culture of the Winnemem Wintu Tribe, wiping out dozens of their sacred sites — including ceremonial dance sites (see photo), healing places, plant and food gathering sites, and many rocks and caves with important cultural stories — and ancient village sites with burials. A preliminary draft environmental impact statement, also released this week, found that raising the dam even 6.5 feet would have a "significant and unavoidable" impact on sacred sites and other cultural properties.
Government authorities say a dam raise is needed in order to boost California's stressed water supply, improve the survival of salmon and other migrating fish, and respond to other water-resource needs. The feasibility study explored a number of options — including taking no action or raising the dam 6.5, 12.5 or 18.5 feet — and found the 18.5 dam raise option to be the most feasible and economically justified.
About nine tenths of Winnemem Wintu ancestral lands on the McCloud River were submerged in 1945 when the federal government built Shasta Dam. Many of the tribe's sacred sites were submerged then, and the few that do remain — including some of the most important — are now under water for part of the year as lake levels rise and fall with the seasons. According to one estimate, raising the dam would permanently submerge more than 30 sites.
"They don't talk about us as the people most impacted, or the fact we have nowhere else to go to practice our religion," Winnemem leader Caleen Sisk said. "We can only teach our distinctive Winnemem lifeway here. It will be extremely hard to teach the tribal youth when you can't go to the specific ceremonial or sacred site, see it, feel it, pray there, be there and develop a relationship with it as a Winnemem."
Sisk also said that raising the dam will do nothing to help the salmon.
The release of the reports marks only a step in a lengthy decision-making process that is still years away from resolution. The Bureau of Reclamation will begin holding workshops with stakeholders to solicit input as it develops a draft environmental impact statement, which is expected to be completed in 2014, followed by a public comment period and the release of the final statement. Even if the project is ultimately approved, Congress must still vote to fund the $1 billion project.
In the meantime, the public can send comments to Katrina Chow, Bureau of Reclamation project manager, at kchow@usbr.gov.
The story received front page coverage in Thursday's San Francisco Chronicle.
Leave a Reply