Sacred Land News
April 28, 2010
Demonstration in New York Against Xingu River Dam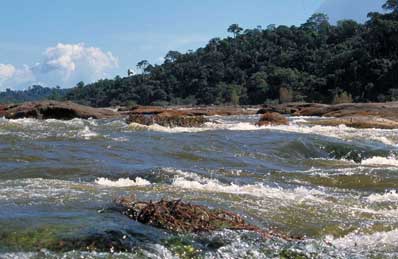 In a demonstration to show solidarity with the Brazilian indigenous peoples who will be gravely affected by the recently approved Belo Monte dam project, actress Sigourney Weaver will join members of the U.N. Permanent Forum on Indigenous Issues to peacefully protest in front of the Brazilian Permanent Mission to the United Nations in New York today, April 28, at 1:30 p.m.
On April 20, after a series of legal battles and last-minute injunctions from environmental and indigenous rights groups, the Brazilian government won out and awarded a domestic consortium—including the state-owned power generator and several construction firms—the $10 billion contract to build the Belo Monte dam on the Xingu River. (See our past stories.)
Construction could begin this year, with the project operational by 2015. Once complete, Belo Monte will be the world's third largest dam. Its construction will flood some 200 square miles of rainforest while also drying up a stretch of the river—affecting an estimated 19,000 to 40,000 people, including 14 indigenous tribes that live nearby.
Indigenous groups are mobilizing to stop dam. A group of 150 Xikrin Kayapo Indians were moving last week to occupy the planned construction site. "We will build a permanent village there and will not leave so long as the project is on," chief Luiz Xipaya told Agence France Presse.
Xipaya said he expects to have at least 500 Brazilian Indians there by end of month, with an ultimate goal of 1,000. "The indigenous people feel threatened by this project and are very agitated," he said.
Since the construction contact was awarded, thousands of people have participated in protests throughout Brazil led by indigenous groups and environmental organizations including Greenpeace and Amazon Watch.
Take Action

If you're in New York, you can join today's protest at 1:30 p.m. in front of the Brazilian Permanent Mission to the United Nations at 747 3rd Avenue, between 46th and 47th streets.
You can also help by contacting the Brazilian embassy to express your concern.
Leave a Reply