Sacred Land News
June 21, 2010
Our Report on the BAVC Producers Institute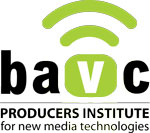 You may have heard that Sacred Land Film Project was at the BAVC Producers Institute, an intense new digital-media boot camp leading to a project presentation before a packed house at the The Center in San Francisco.
For 10 days our team was immersed in learning about emerging new media technologies, how to harness them for social and environmental justice, how to nurture and grow communities, and how to motivate positive action using these exciting new tools. Topics ranged from alternate, augmented, virtual and hybrid digital reality, web 3.0, the "intelligent web," data visualization, interactive mapping, to twitter strategy and crowd sourcing. We were surprised to learn that we are no longer filmmakers, we are "screen content producers!"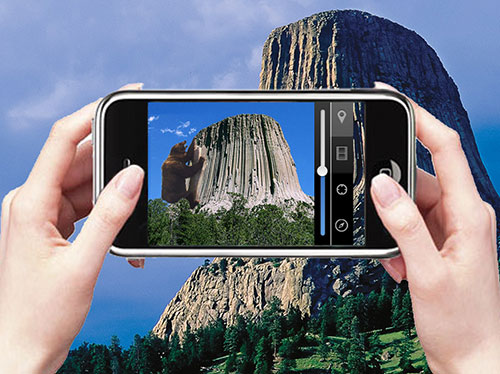 The project we developed and then presented at The Center is a global application made for mobile devices, like a smart phone, that will take you on a tour of sacred sites that are now maintained as national parks or, in the case of urban tours, to discover where sacred sites have been paved over.
We partnered with Dorothy FireCloud, the Superintendent of Devils Tower National Monument, to create a tour prototype. With Dorothy's guidance and the help of our amazing mentors, Anselm Hook, a leading augmented reality specialist, and Paige Saez, a designer and strategist, we created a working prototype and a long-term vision for a mobile phone application that could have a profound impact on our collective understanding of sacred lands.
The tour tells the story of indigenous culture through indigenous voices using video, audio, photos and augmented reality so that a hidden history is unveiled. Augmented reality is when an image is overlaid onto a physical environment, as you can see in the video below.
GPS data triggers your hand-held device to play stories relevant to your exact location. For example, in our Devils Tower prototype, you will be able to look through your smart phone and see an Indian village overlaid onto the modern-day physical environment, then raise the phone to the sky, where you can learn about Lakota star knowledge and see it through the phone.
We love the way this technology encourages people to get out and experience nature while learning a history that is buried, lost, hidden, erased or literally underground, and in doing so recapture what it means to be in connection with the land.
Leave a Reply