Our Films
A Thousand Years of Ceremony: Florence Jones and the Struggle for Mount Shasta (1997)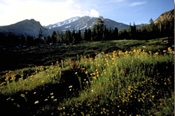 1997 – 38 minutes
The Sacred Land Film Project produced this archival film for the Winnemem Wintu community of northern California and used it for educational purposes in the lead-up to completion of In the Light of Reverence. A Thousand Years of Ceremony premiered at the American Indian Film Festival in San Francisco in November 1997 and was nominated for the Best Short Documentary award. The film is not for sale, nor is it available for distribution. A 55-minute version was produced for internal use by the Winnemem and includes ceremonial footage and songs that the tribe requested not be made public but be kept for internal tribal educational use.
A Thousand Years of Ceremony is the story of the Winnemem Wintu's struggle to preserve their spiritual and ceremonial ways of life at Mt. Shasta in northern California. The film profiles medicine woman Florence Jones, the top doctor of the Winnemem Wintu, as she leads an effort to protect sacred sites, language, and healing traditions from the intrusions of New Age spiritual practices, private property interests and the U.S. Forest Service.
A Thousand Years of Ceremony provides an intimate look into one native community's cultural survival, giving the viewer insight into the international struggle for sacred site protection by indigenous people.